Inspiration
From time to time we will post things here that we feel are worth sharing. In this case it's a video interview with choir director Brian Mitchell. Full disclosure: Brian is on our Advisory Board and is a spokesperson for 4-Minute Mastery™, our 6~University choral sight-reading program. But Brian speaks here on a wide range of choral issues that go far beyond the scope of 4-Minute. We hope you enjoy watching it. (By the way, the introductory note is from Howard Meharg, web master of the Washington State Choral Directors' Association web site.)
Hi, NW Choral Director:
I'm so lucky! In this web-person position I often get to be one of the first to see great articles and other inspiring material before it goes out to you.
That's the case today. Stuart Hunt, a long-time friend, just sent me a video "interview" with Brian Mitchell, former choir director at Mark Morris High School (Longview) and current president of WA ACDA. Brian got a standing ovation for a talk on a similar subject at Washington's Summer Institute a couple years ago. This time Brian speaks of the transcendental nature of choral music…in a way, sort of explaining the unexplainable as to the why of what we do as directors and as singers.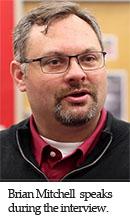 Now, don't even open this link to Brian (introduced by Stuart) unless you have about 20 minutes of quiet time to view it. It's marvelous and you're going to want to watch it all the way through!
Best to you!
Howard Meharg, Web/Editor